Welcome to the Asbestos Museum
Klik hier voor de Nederlandstalige versie van deze pagina.
The Asbestos Museum is situated in Rotterdam in one of the training locations of BME Opleidingen.
The Asbestos Museum aims to:
raise awareness around the topic of asbestos and how to handle the material safely;
create awareness about the social impact of breathing in asbestos fibers and the prevention thereof:

especially for those people working in the asbestos industry (asbestos surveyors, abatement workers, lab staff and asbestos acceptants working for municipalities).
and for owners of asbestos applications in the Real Estate sector, Industry, and Maritime and Offshore.

display safely packaged applications of asbestos, in order to contribute to directly applicable knowledge.
In the vast collection over 5,000 asbestos-related items are on display. Items, such as products containing asbestos, all types of asbestos fibers, artworks made from asbestos and promotional materials of various asbestos producing companies. Evidently, all items are safely packaged and displayed in closed cabinets.
Click here for a virtual preview and watch the video below.
Visits to the Museum are by appointment only.
Contact backoffice@bmeopleidingen.nl for more information on available dates.
News
1-Dec-2023
New EU Directive on Asbestos
On 1 December, the EU's new directive on asbestos came into force. It aims to protect people from inhaling asbestos fibres in their working environment.
More info: Protection from asbestos at work: Council votes to reduce exposure limits – Consilium (europa.eu)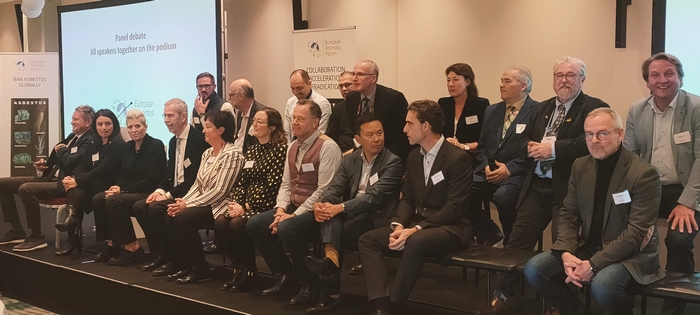 30-Nov-2023
Asbestos Museum proud sponsor of EAF Congres 2023
The Asbestos Museum was the proud sponsor of the European Asbestos Forum Congress organized by Yvonne Waterman in Brussels in late November, and early December 2023. It exhibited 6 display cases and discussed the need to adapt REACH to allow the display of asbestos samples and applications for educational, museum and scientific purposes.

There was also a photo exhibition by Tony Rich – who was also presented with the EAF Award – and there were demonstrations of innovative techniques during the congress, such as dissolving asbestos fibres in water by Asbeter, fixing asbestos fibres before removal by Fiberbinder and aerial scanning for the presence of asbestos roofs by Professor Manuel Saba. Finally, mesothelioma patients Heather Von St James and Helen Bone told impressive stories.
More information: EAF – European Asbestos Forum